Welcome to Housatonic Anglers
Since 1993, Rob Nicholas (owner of Housatonic Anglers) has been guiding and teaching the sport of fly fishing to all skill levels from beginner to expert on both the Housatonic and Farmington rivers, as well as some lesser known, smaller streams.
Some Quick Facts about Rob:
– The only "FULL TIME" guide on the Housatonic and the most experienced. We were here first!!!
– Versatile and knowledgeable. Rob is a dry fly enthusiast who loves to nymph and streamer fish during non-hatch periods both on foot and from drift boats.
– Federation of Fly Fishers certified casting instructor since 1993.
– Patient, enthusiastic guiding style with over 30 years of fly fishing knowledge and experience here in the Northeast and The American West, New Zealand, Chile and Argentina.
– No hidden fees! Rob provides hand-tied leaders, flies, tippet material and even rods and waders at no extra charge.
– A passionate fly tyer with a variety of "GO TO" flies specifically designed for fishing the Housatonic and Farmington.
– Great working relationships with other local guides to accommodate group outings or to fill in when Rob is unavailable.
– Top notch equipment for use on all trips from Sage, Winston, TFO, Ross, Lamson, and Orvis.
If you are looking to hire a guide for the first time or as a veteran angler who simply wants to learn the secrets of the Housatonic or Farmington, look no further!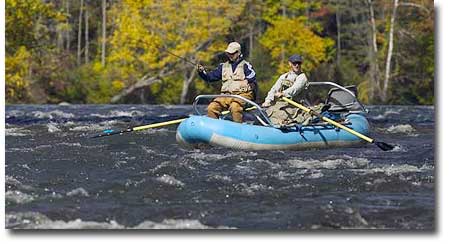 Your host Rob Nicholas
Housatonic Anglers